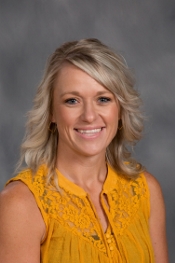 Mary is a Ethan Alumni, graduated in 2004. She lives close to where she grew up west of Ethan with her husband, and three children.
FYI: Mr. Hawkins may have taught her everything she knows in Math Class but now the roles have reversed.
Meet the New Business Manager
Where are you from and where did you go to school?
- Grew up in Ethan, Graduated from Ethan High School, Received my Bachelors Degree at SDSU!
What led you to this career?
- A great friend told me to apply to the position and here we are! Also after graduating I never knew exactly what I wanted to do however when I went into the Accounting world I enjoyed working with numbers and processing payroll. But always wanted to be part of a school. I got the best of both worlds.
What do you like to do on your days off?
- Hang out with family, go camping and ride horse as much as possible.
What three words would your friends use to describe you?
- Competitive, Genuine, Very Determined!
Where is the place you want to visit?
- Nashville
What advice would you give to your teenage self?
- Be kind and push yourself to better yourself, always room for improvement. Time goes by so fast, live in the moment!
What places have you lived in?
- Ethan, Brookings, Mitchell, than back to Ethan.
Favorite Food and Least Favorite Food?
- Favorite: Strawberries (by themselves, in cake, on top of cake, wine flavor)
- Least: Tomatoes
What is the one thing you cannot live without?
- My Kids! And Country Music.
What did you want to be when growing up?
- When I was young, a Mom; in High School, a Nurse; in College, a Math Teacher or a Business owner.
What is your favorite childhood memory?
- Camping in Yankton and Rodeo.
What are you afraid of?
- Clowns but not Rodeo Clowns! And Feet…And Moths...
What's your favorite sport?
- Playing – volleyball; watching – Football.
What is one thing most people don't know about you?
- I'm an open book so most people know this, but I talk/walk in my sleep. I have been locked out of a hotel room, found in a closet and I've taken pictures off the wall in the middle of night.
If you had to eat one meal, every day for the rest of the life, what would it be?
- My mom's swiss steak, mashed potatoes, corn and Grandma Duba's strawberry pie.