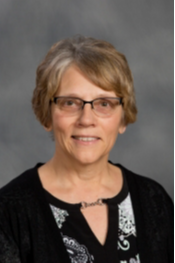 Lets learn more about someone you might already know!
Barb Aisenbrey has working at the Ethan School for 29 years! She is so dedicated to her job and the students, we really appreciate everything she does for the school!
Where are you from and where did you go to school?
Grew up on a farm by Tripp, SD

Graduated Tripp High School

Graduated USD/Springfield
What led you to this career?
I have always like office type work.
What do you like to do on your days off?
Spend time with family & friends and try new recipes
What three words would your friends use to describe you?
Dependable, Caring, Friendly
Where is the place you want to visit?
A road trip through the New England States
What advice would you give to your teenage self?
Read more and study harder
In what places have you lived?
Tripp, Springfield, Sioux Falls, Midland, Ethan
Favorite Food and Least Favorite Food?
Favorite – anything with shrimp

Least - tuna casserole
What is the one thing you cannot live without?
What did you want to be when growing up?
To be a great piano player
What is your favorite childhood memory?
Fishing with my grandparents and the Christmas I got a brand new bicycle
What do you fear the most?
What's your favorite sport?
Watching softball/baseball when my family was participating
What is one thing most people don't know about you?
I like to watch people dance such as weddings – polka, line dance, jitterbug, etc.
If you had to eat one meal, every day for the rest of the life, what would it be?