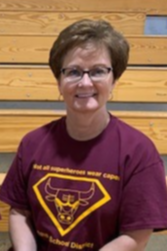 Diane came to us from a long career in nursing. Please welcome Diane to the Ethan School Team, we know she will do great!!
FYI: She makes the best cinnamon rolls!
Meet our NEW Food Service Director
Where are you from and where did you go to school?
- Originally from and attended Farmer Grade School and graduated from Hanson High School. Graduated from both MTI and DWU
What led you to this career?
- A community member approached me about the position and I felt that I could maybe have a positive effect on the current situation. And… I love to do creative cooking.
What do you like to do on your days off?
- Tend to my yard, gardening, riding horses and embroidery
What three words would your friends use to describe you?
- Hard working, energetic & fun
Where is the place you want to visit?
- Ireland & Rome
What advice would you give to your teenage self?
- Be Kind to yourself; don't let the little things matter as much as the big picture. Mistakes are only runges on the ladder of life.
What places have you lived in?
- Rural Farmer, Mitchell & Ethan
Favorite Food and Least Favorite Food?
- Favorite – Ribeye Steak
- Least - Liver
What is the one thing you cannot live without?
- My Family
What did you want to be when growing up?
- I always wanted to be a nurse, which I practiced for 43 years & recently retired from the profession.
What is your favorite childhood memory?
- Christmas Eve, going to midnight mass then coming home for home cured ham sandwiches.
What do you fear the most?
- The unknown
What's your favorite sport?
- Rodeo and enjoy watching basketball
What is one thing most people don't know about you?
- I have tandem sky diving on my bucket list.
If you had to eat one meal, every day for the rest of the life, what would it be?
- Fried Chicken (the way I make it!)