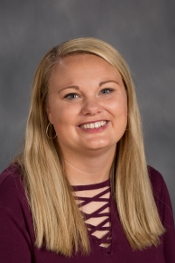 Jennifer Klumb. After 2 years in Ethan she has become the Preschool/Jr. Kindergarten Teacher for 10 years now. Our Preschool program has been a wondering addition to our school!
Preschool/Jr. Kindergarten Teacher
Where are you from and where did you go to school?
- Armour, SD I went to college at Northwestern in Orange City, IA.
What led you to this career?
- I have had many mentor teachers in my life. My 2nd grade teacher and four aunts (all educators) encouraged me to go into the profession. I also spent several summers while in college teaching summer school and knew that was the job for me!
What do you like to do on your days off?
- On my days off, I like to watch my kids' sporting events, bake, and spend time with my family.
What three words would your friends use to describe you?
- Compassionate, Energetic, Hard-working
Where is the place you want to visit?
- Hawaii
What advice would you give to your teenage self?
- Go for your dreams, don't sell yourself short
What places have you lived in?
- I have lived on the farm since Ben and I got married 16 years ago..
Favorite Food and Least Favorite Food?
- Favorite: Pasta
- Least: Peas and Broccoli
What is the one thing you cannot live without?
- My cell phone
What did you want to be when growing up?
- I've always wanted to be a teacher.
What is your favorite childhood memory?
- I have so many wonderful memories as a child. I grew up on the farm so we were always doing family things together. I'll always remember the vacations we took in the summer. My favorite was going to San Francisco with my mom and sister and seeing the ocean for the first time.
What are you afraid of?
- Mice
What's your favorite sport?
- Baseball and softball, I love watching my kids play ball in the summers..
What is one thing most people don't know about you?
- I've been cliff jumping and drove a racecar!
If you had to eat one meal, every day for the rest of the life, what would it be?
- Sub sandwiches