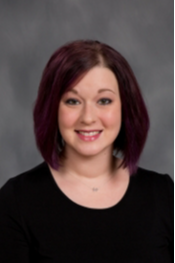 Molly has been with Ethan 4 years. She lives in Mitchell with her Husband, Brandon. She also is an EMT. She supervises many extra curricular activities as in the One Act Play and Yearbook.
Where are you from and where did you go to school?
I am from Mitchell. Graduated from the University of South Dakota, twice!
What led you to this career?
While growing up, I watched my dad play in bands, and there would be "jam sessions" at family gatherings. I always knew music was going to be a big part of my life, so when I became old enough to learn music, I joined everything I could that involved music and became a musician.
What do you like to do on your days off?
Be with family and friends (and my dog of course!), go to concerts, play my trombone, and video games.
What three words would your friends use to describe you?
Where is the place you want to visit?
I want to visit Ireland, Italy, France, all 50 states, and go back to London
What advice would you give to your teenage self?
Do what makes you happy in life. Make sure you go to school for something YOU enjoy, not what other want you to do.
What places have you lived in?
Mitchell, Vermillion, Sioux Falls
Favorite Food and Least Favorite Food?
What is the one thing you cannot live without?
What did you want to be when growing up?
Teacher, Doctor, Musician
What is your favorite childhood memory?
Going to listen to my dad's bands play
What are you afraid of?
What's your favorite sport?
It's not "technically" a sport, but Drum Corp International (professional marching band).
What is one thing most people don't know about you?
I play trombone and love to practice!
If you had to eat one meal, every day for the rest of the life, what would it be?