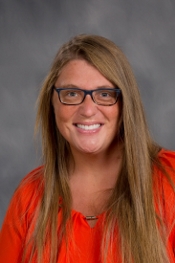 Sara Mora is our 1st Grade Teacher, she is Ethan Alumni and we are so lucky to have her now as a Teacher!
Where are you from and where did you go to school?
- I grew up in Ethan and went to school in Ethan.
What led you to this career?
- I have wanted to be a teacher since I had Mrs. Liebert in 2nd Grade! She was amazing!
What do you like to do on your days off?
- Catch up on my Dr. Phil episodes, cuddle with Luna, and spend time with family.
What three words would your friends use to describe you?
- Organized, Friendly, & Generous.
Where is the place you want to visit?
- Any Place on the East Coast
What advice would you give to your teenage self?
- Enjoy being carefree kid/teenager because one day you blink and you are an adult with a load of responsibilities! Thank your parents - they do so much for you!
What places have you lived in?
- Ethan & Mitchell
Favorite Food and Least Favorite Food?
- Favorite: Chinese
- Least: Oysters
What is the one thing you cannot live without?
- My vacuum Cleaner
What did you want to be when growing up?
- Teacher.
What is your favorite childhood memory?
- Being left alone during summer days with my sister while Mom & Dad went to work - we would make chocolate chip cookies and eat the dough raw!
What are you afraid of?
- Being by myself
What's your favorite sport?
- Not a huge sports fan but Marco watches ALL sports ALL the time so it's constantly on!
What is one thing most people don't know about you?
- I enjoy watching WWE (pro wrestling) and have since I was a kids... LOL
If you had to eat one meal, every day for the rest of the life, what would it be?
- Mashed Potatoes and baked beans