Just a reminder that our concerts will air tonight on our YouTube channel and on our Santel channel at 7:00 PM.

The Ethan School Board has agreed to open up attendance for ALL fans for our upcoming basketball games! We are not mandating the use of masks at this time, but we strongly encourage their use, for the safety of all student/athletes involved as well as all fans.

Tonight's planned Boys Basketball game @Canistota has been postponed. We have rescheduled it to Jan 25th as a Double Header with the following schedule. Girls JV(4:00) Boys JV (5:00) Girls Varsity (6:15) Boys Varsity (7:30)

For Friday night's BBB game in Canistota. There are no limitations on the amount of fans, and masks are encouraged but not required. We look forward to seeing another great turnout from our community! It should be noted that with what seems like nasty weather approaching, be prepared for potential changes!

We have just added a JH Boys (6:30pm) and JH Girls (7:30pm) game against MVP this Thursday! 1/14/21. The games are in Ethan.
MENU CHANGE THIS WEEK: Wednesday & Thursday will be switched. Wednesday - Breakfast Pizza, Tangerine Chicken & Sidekicks for Lunch. Thursday - Waffles for Breakfast, Roast Turkey & Mashed Potatoes/Gravy for Lunch.

Parents, Just a reminder that our students will be videoing their Christmas concert this week on Tuesday and Thursday. Again, Mrs. Tilberg is asking that all students in grades PreK-6th grade wear green, red, or ugly Christmas sweaters for their video. Students in grades 1st thru 6th will be videotaping on Tuesday and our Preschool and Kindergarten students will video on Thursday. Remember that our concert will air on Sunday night at 7:00 PM on our YouTube channel and our Santel channel. Copyright laws will only allow us to air the concert one time, so please make sure you make time to watch our students' work! Mr. Hawkins
They are moving forward and planning to hold the annual 2021 Hanson Classic's on Saturday, January 16th and Saturday, January 23rd. Please Note: There is a NEW format this year in regards to broadcasting of games and would ask that you refer to the attached brochure. The games will be broadcast on a pay-per view basis. This is a big change from the past when games were available on the local cable channels for free. ​​See brochure for detail information.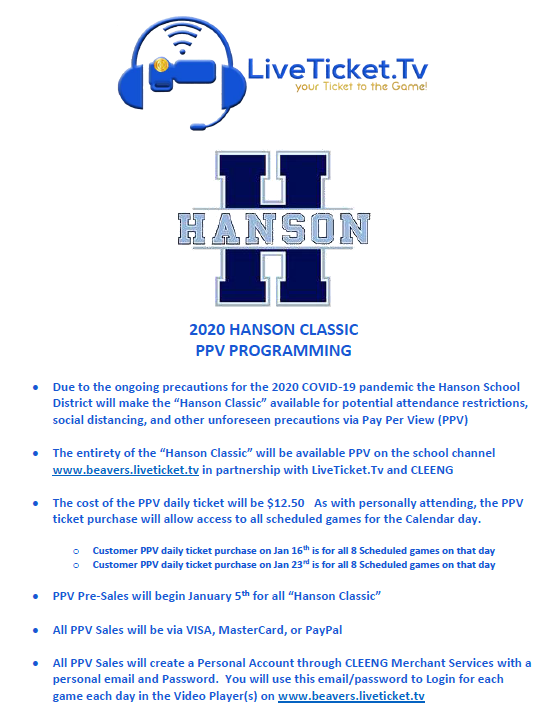 Ethan Rustler Flags are still available! If you would like a custom school WOOD CARVED Flags please see image for order information. 20% of proceeds are donated back to the school.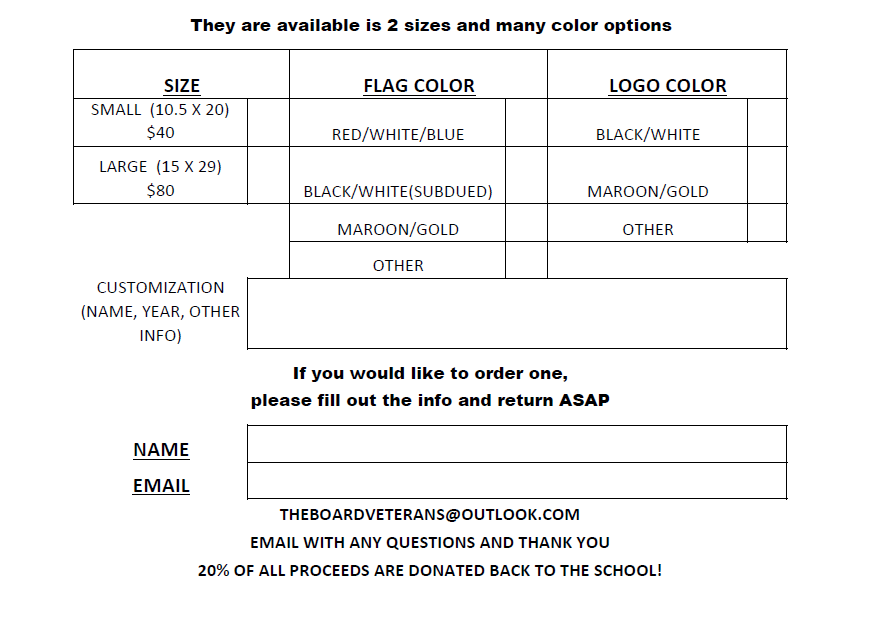 For this evening's JH boys game in Armour @6:00pm, there are no attendance restrictions but mask are manditory! For our GBB and BBB double header in Emery tomorrow, there are no limitations on the amount of fans and masks are encouraged, not required.

For our Boys and Girls Doubleheader on Thursday in Avon here are the following guidelines. There is no limit on the number of fans who can attend, but masks are required. For our Boys and Girls Doubleheader on Friday in Wessington Springs. There is no limit on the number of fans who can attend, and masks are encouraged, not required.

Good evening parents: School is off and running for our second semester and it was awesome to see the kids back in the building again! Now it is time to start preparing for our Christmas Concert that was postponed before the holiday break. Our music teachers will be using this week to review music with their students. Next week, on Tuesday and Thursday, we will be videoing our students' performances. We will then use the following days to piece the performances together and have the finished product ready to air on our YouTube channel and Santel channel on Sunday evening, January 17th, at 7 PM. Just a reminder, that due to copyright laws, we will only be able to show our concert one time, then will need to remove it from our channels immediately. Mrs. Tilberg is again asking her music students to wear red or green colored shirts, or ugly Christmas sweaters for their performance piece. Students in grades 1st – 6th will be performing next Tuesday and our Preschool and Kindergarten students will be videotaping their performances next Thursday. Again, please send your students to school wearing the proper colors if possible. Mr. Hawkins
WELCOME BACK STUDENTS & STAFF! We are excited to get back in the swing of things! Reminder the Daily Bulletin is posted every day on the website, under Menu-Bulletin for all your events for the week. If you haven't already done so, please sign up for the E-mail list serve for all bulletins as well!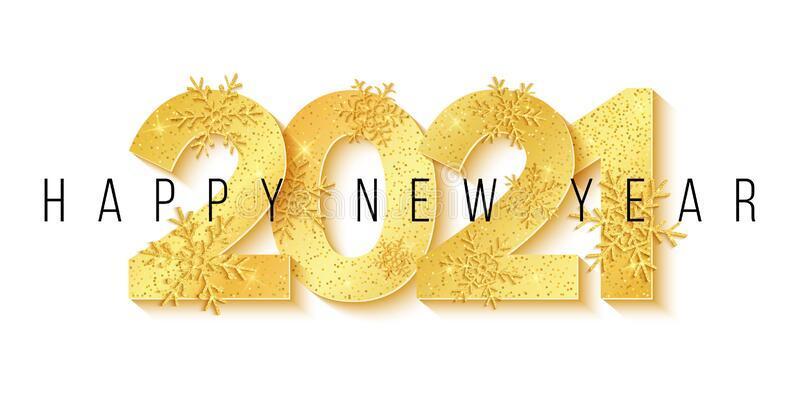 Good afternoon, I want give everyone an update concerning our upcoming Boys Basketball Game in Huron on Wednesday @4:00 vs. Faulkton Area. As of right now, the games are going ahead as planned. If there were to be any changes I will put an update on the school website and send out an email as soon as I am notified. In regards to attendance restrictions for the game. There is no limit on spectators in the Huron Arena. There is however a MASK MANDATE. I would ask that all spectators that can attend, please honor this rule as we continue to stamp out COVID in our area! If you have any questions or concerns please contact me and I'll get back to you. Enjoy the rest of break!
It's a time to be merry and indulge in plenty of food and drink to keep warm during the cold winter. We wish all the students, staff, and community a very Merry Christmas and wonderful New Year! Enjoy the Winter Break and we will all see you back January 4th!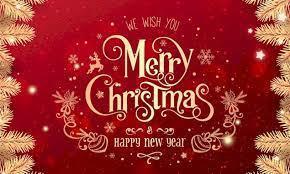 Good Evening! Well, we made it through a very trying semester of school, pretty much unscathed. Four months ago, I was really thinking things would have turned out much worse than they did. Because of the dedication of our staff, students, school board, and parents, things really went quite well. I am so proud of this community, the entire Ethan staff, and all of the students for doing their part to minimize the effect that the COVID-19 pandemic had on our school. I am really proud of how our staff and students adjusted to the changes the pandemic caused in our daily routines, and they handled it with such grace and positivity! As the holiday season is now upon us, I cannot help but to think of all the things I am thankful for. I am so thankful to be working in the Ethan School District. I am so thankful for such a great staff of dedicated professionals who continue to amaze me on a daily basis. I am thankful for the parents and the community of Ethan who believe in the importance of challenging our students to be the best they can be. Moreover, I am especially thankful for having the best students the state of South Dakota has to offer, right here in our building. They are such a joy to be around and I could not imagine being anywhere else. All of our staff members and all of our students make Ethan the greatest place to be! Wishing all of you the happiest of holidays and all the joy the season can bring! Please stay safe, stay healthy, and I can't wait to see everyone in 2021!!!!!!!! Merry Christmas and Happy New Year everybody! Mr. Hawkins
Sungold orders are ready for pickup at Sungold! Happy Friday!

Happy Game Day. The basketball doubleheader kicks off tonight with our JV games beginning @5:00pm. Boys JV: New Gym ,Girls JV: Old Gym. Varsity girls will follow @6:30 and concluding with Varsity boys around 8:00pm. Again we are continuing with our attendance policy located on our website. Games will be livestreamed on Ethan Rustlers Live youtube channel as well as the local Santel channel. Please support the teams in any way that you can.
Ethan Rustler Flags The Board Veterans are local small business and would like to offer you a custom school WOOD CARVED Flags. Please see image for order. Due December 22nd, 2020. 20% of proceeds are donated back to the school.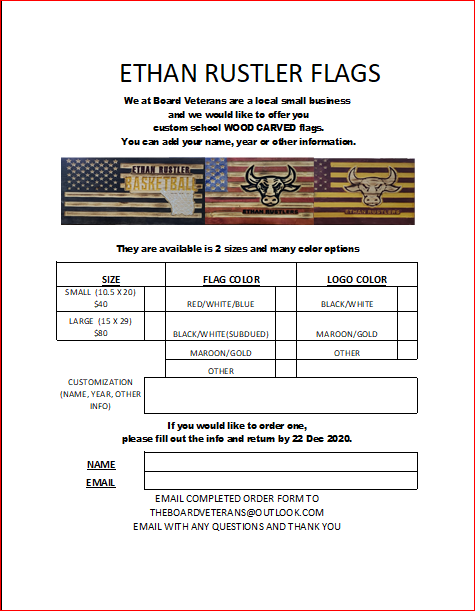 Good morning, these are the following restrictions for the JVC Basketball games@ JVC tomorrow. 4:00 JV Girls 5:15 JV Boys 6:30 Varsity Girls 7:45 Varsity Boys Masks are mandatory for all in attendance per Huron City Ordinance Ethan fans need to use the West Side bleachers and the NW restrooms Each family will receive (6) tickets. Game will be broadcast on the JVC youtube channel.
https://www.youtube.com/channel/UCCL0j8lqkcYmxwfwNq7lO9w