Good Evening, Due to snow we have already received, and the potential for 1-2" more tonight, school will start tomorrow at 10:00 AM. Mr. Hawkins

Due to the high probability of freezing drizzle starting at 6:00 tonight and lasting until 9:00, we are going to postpone tonight's Christmas concert until Monday, December 19th. Mr. Hawkins

After Prom Meal - December 13th @ 5:30! See image for details!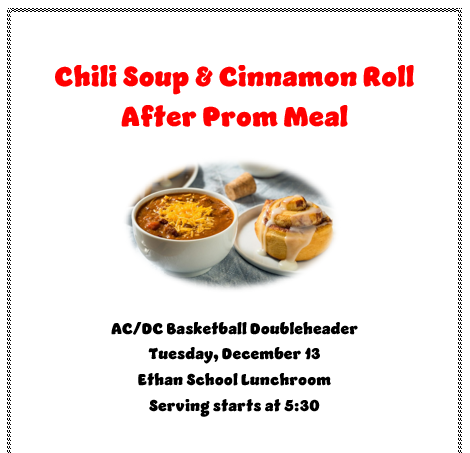 Congratulations to Leah Storm on winning the Soup Cook-off! We would also like to congratulate the Department of Transportation for winning the Parade of Lights with Ethan FFCLA coming in 2nd, and Tim's Towing in 3rd. Thank you to the community for all the sponsors and participating in our events to make Christmas on Main a success. Thank you! Freshmen Leadership Class

Reminder - TOMORROW Elementary Christmas Concert Tues., Dec. 6, at 7:00 p.m. Note for Preschool Parents, after they perform they will be asked to sit by their parents the rest of the concert. Thank you.

Hi all!! A lot of you of you may know me!! I manage all the booking & parties with TNT's Inflatables! Working with kids is honestly a passion of mine & I wouldn't trade it for the world! I have been tossing this idea around for a while now as I have seen the need for occupying & giving the school aged kids something to do, while the parents are working after school! Our shop is on the homeward stretch of being fully operational! I am excited to announce that I am going to offer kids to come & hang out with me Monday through Thursday! I will be having basically time after school, that kids can do homework & play/craft. We will have reading/homework time for the first 15-20 minutes then have a snack/drink and they can then play/jump and/or craft!! I will have different activities for them each day!! SOMEONE will need to pick them up by 6pm! -if this is something you're wanting your kid to participate in, please message me as soon as possible to get all the details & your spot reserved! I will get a waiver sent over! -Tawni Griebel

Reminder- TOMORROW December 4th is Ethan's Christmas on Main! If you heard it on the radio they had the wrong date. Still tomorrow!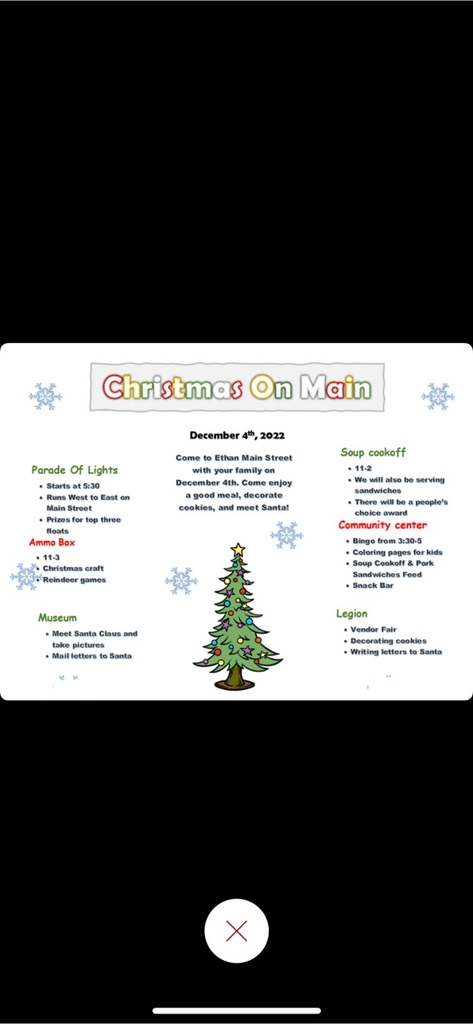 The Elementary Christmas Concert will be held on Tues., Dec. 6, at 7:00 p.m. This concert involves Preschool-Sixth grade students. We would like the students to dress appropriately for the concert. We prefer that the students do not wear blue jeans or athletic clothing. The fifth and sixth grade band students should report to the band room by 6:40 p.m. ALL other students should be in their classrooms by 6:50 p.m. If you have any questions please contact either one of us. Thank you! Sue Tilberg-
Susan.Tilberg@k12.sd.us
Steve Bamberg-
Steve.Bamberg@k12.sd.us
Ethan School- (605)-227-4211

REMINDER- CHRISTMAS ON MAIN - THIS SUNDAY - December 4th!! See Image for Details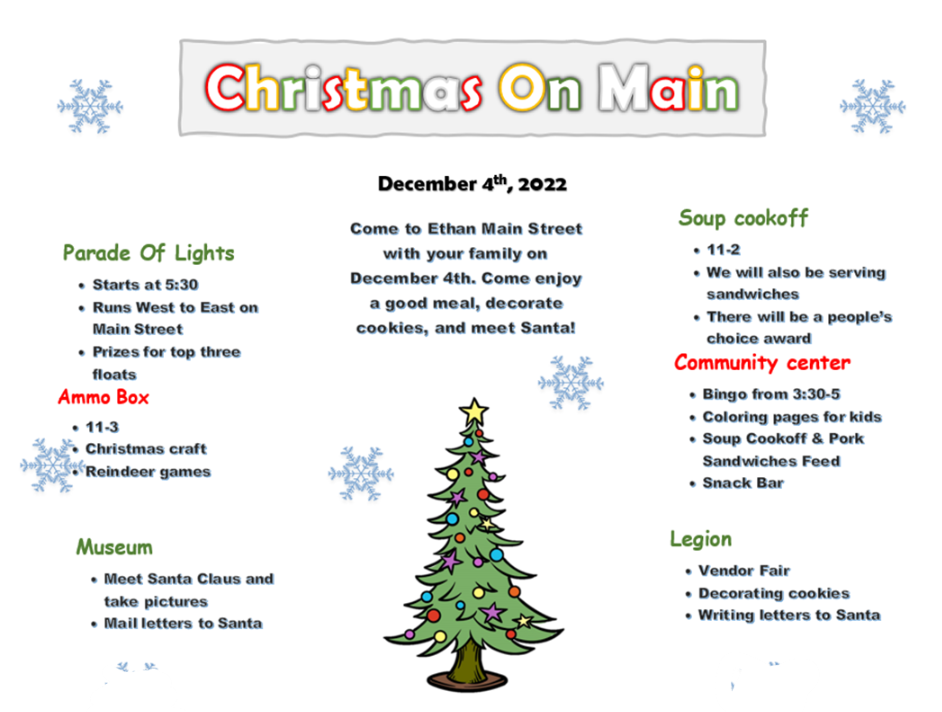 Sophomores & Juniors went to Career Day last week.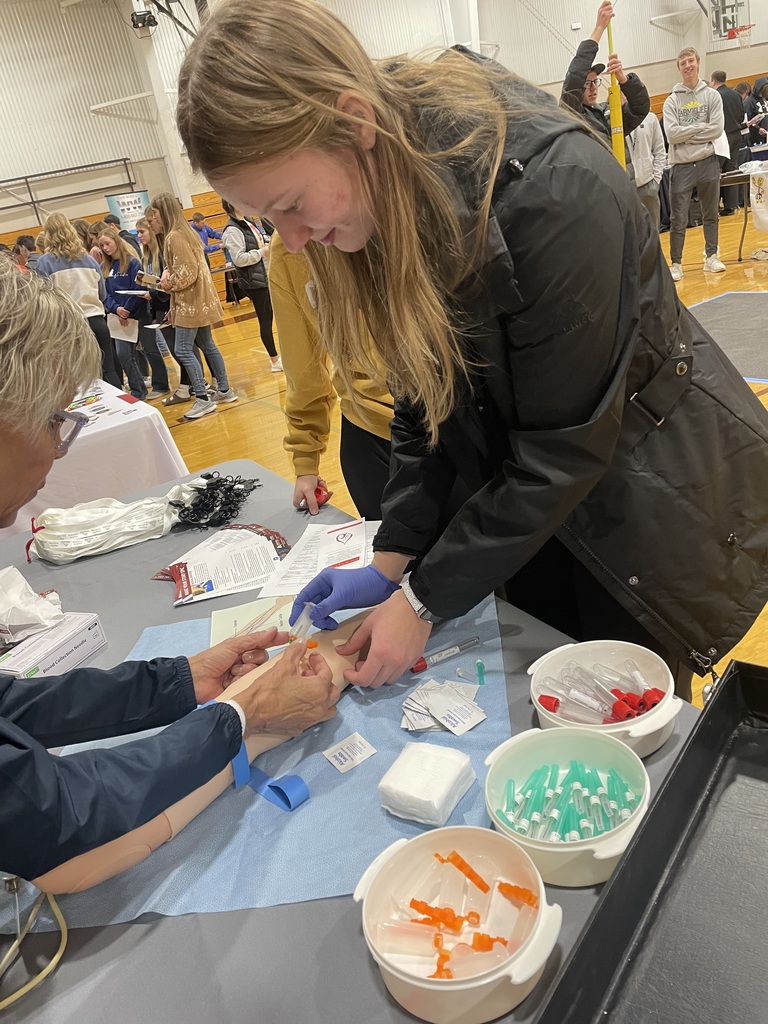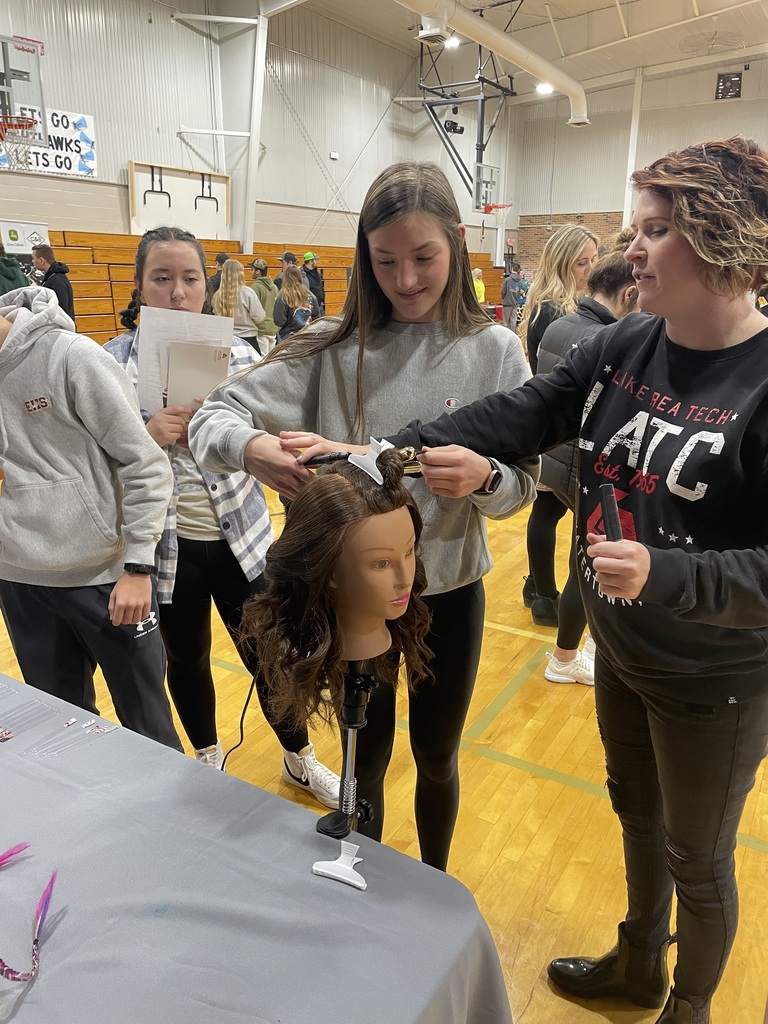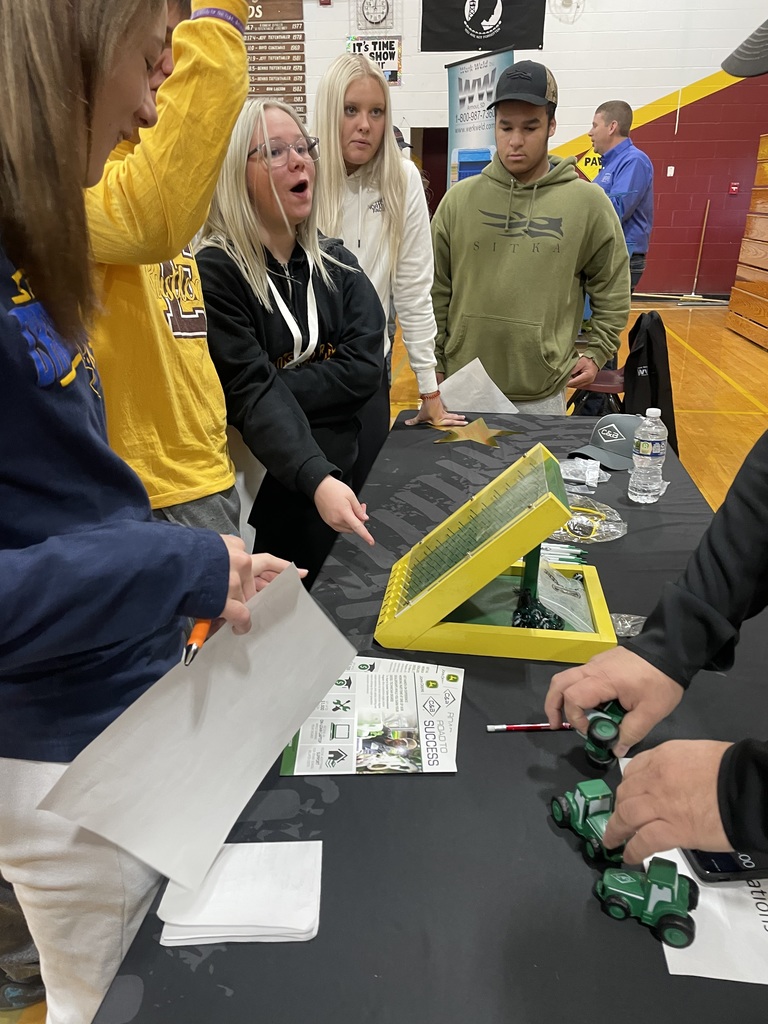 Congratulations to the newest members of the National Honor Society in the junior class.

Today Firefighters from Mitchell and Ethan came to school for Fire Safety! Firefighters reviewed smoke alarms, talked about getting out when there is a fire and not going back for anything! Talked about having a safe place meeting to go when house is on fire. They talked about getting to a window if there is one and shouting "HELP" so the firefighters know where they are. Also to get low to the ground so they don't take in all the smoke and showed them much more! The kids got to see Firefighter in a suit, the trucks and some cool tools they might need in a fire! Thanks to Mitchell & Ethan Fire Department for this presentation today!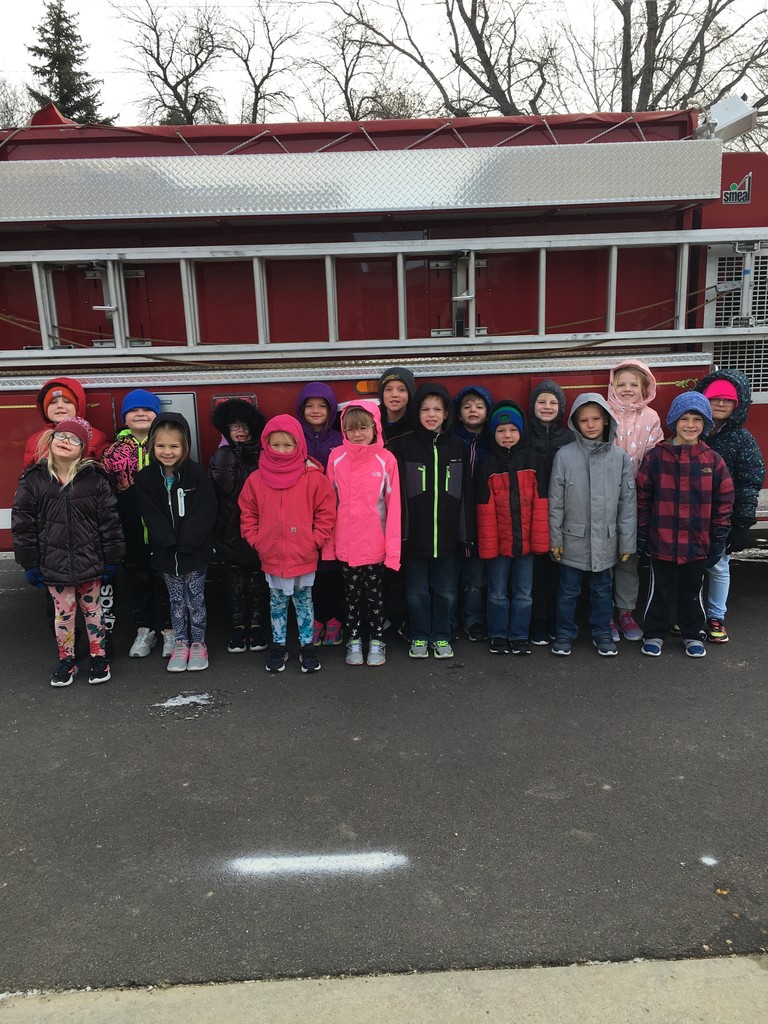 Haley Vogel on her Make a Wish Trip in Florida!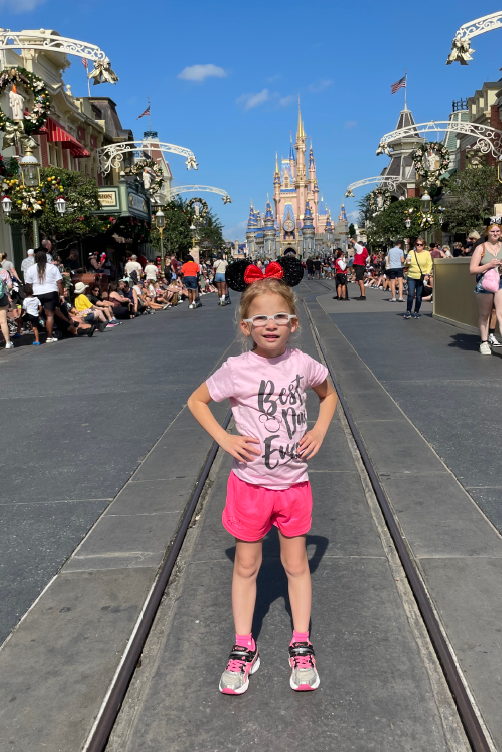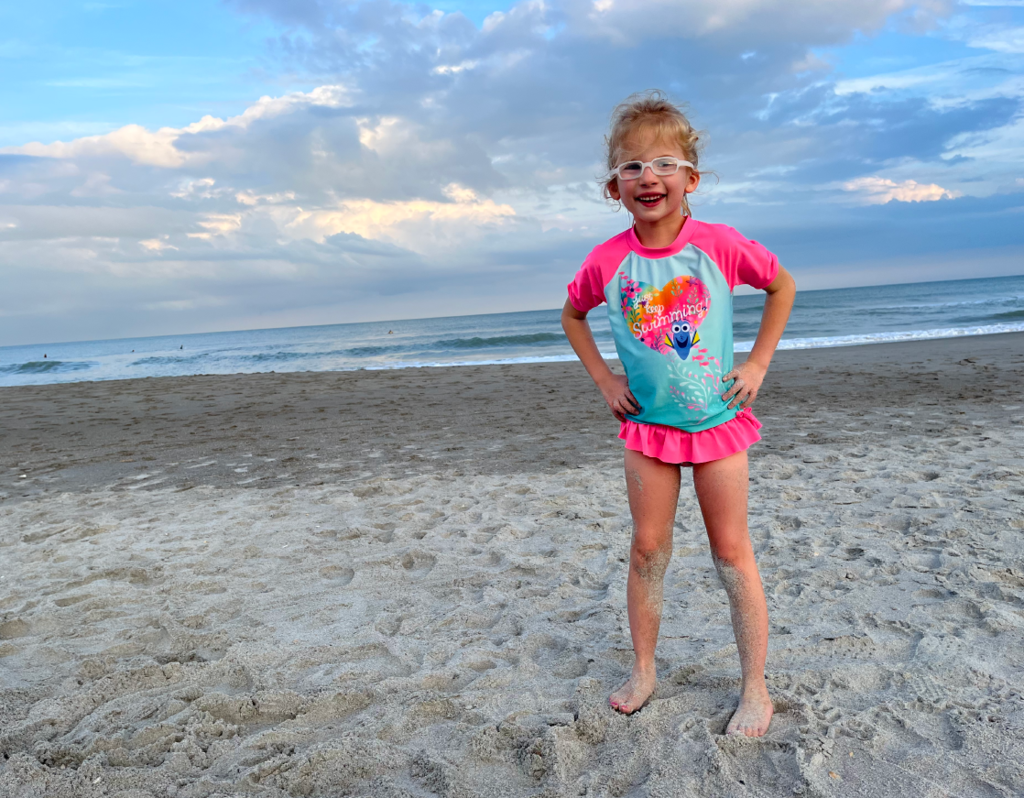 Happy Substitute Educator's Day! These professional educators provide a critical link in the education of public schoolchildren by serving as a bridge to provide continued quality education to children in the temporary absence of regular classroom educators. At Ethan, we wish to give a special thank you to Mr. Jones, Mrs. Gerlach, Mrs. Haag, Mr. Bohmont, Ms. Hertel, Mr. Anderson, and many others that have served in our school.

With the start of the winter season upon us, I wanted to share with everyone how we will proceed with late starts this school year. If the weather conditions force us to start the school day at a later time, ALL late starts will start at 10:00 AM. If your student rides the bus to school, you will need to adjust their pickup time by one hour and forty-five minutes. Again, all late starts will be a 10:00 AM start time this winter season. Mr. Hawkins

Reminder that the forms for the Kids Christmas Extravaganza on November 26th are due THIS FRIDAY! Forms were handed out to students in Pre-K - 6th grades last week. The event will go from 9:00 a.m. - 12:00 p.m. Also not noted on the forms: Wear your pajamas!! Thanks!

We would like to give a big shout out to all the educational support professionals here at Ethan Public School!! Because of the support from our para educators, cooks, janitors, bus drivers, secretaries and everyone in between, the Ethan students have a safe and successful environment to learn and prosper in every day. Therefore, thank you to each of you! Ethan has the best educational support professionals around! Happy Educational Support Professionals Day!

REMINDER - Sign up to have a Float in Parade of Lights and/or to participant in Soup Cook-off!! See images to sign up!!! NEED MORE PEOPLE TO SIGN UP!!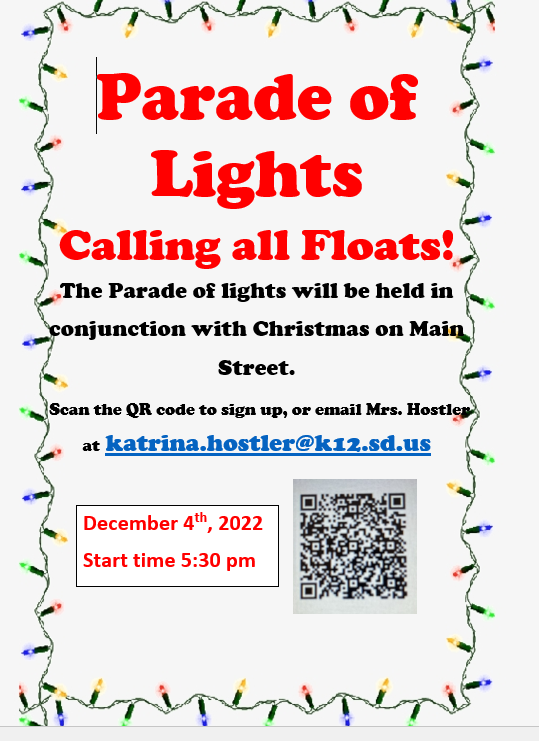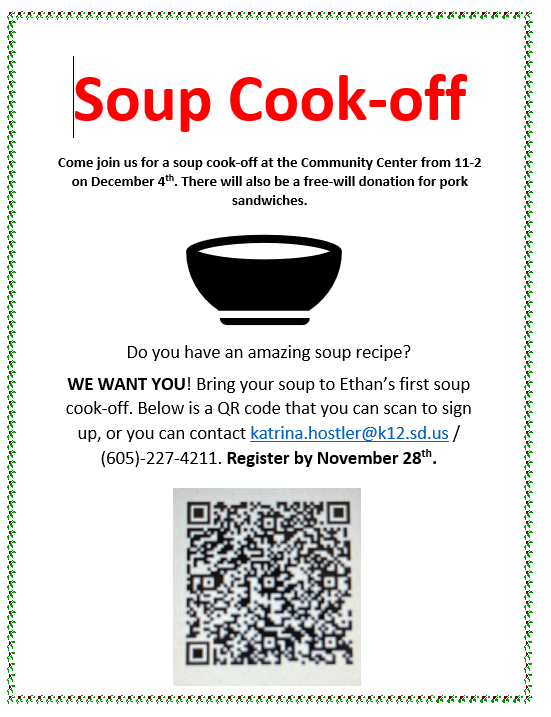 MARK YOUR CALENDARS - CHRISTMAS ON MAIN - December 4th!! See Image for Details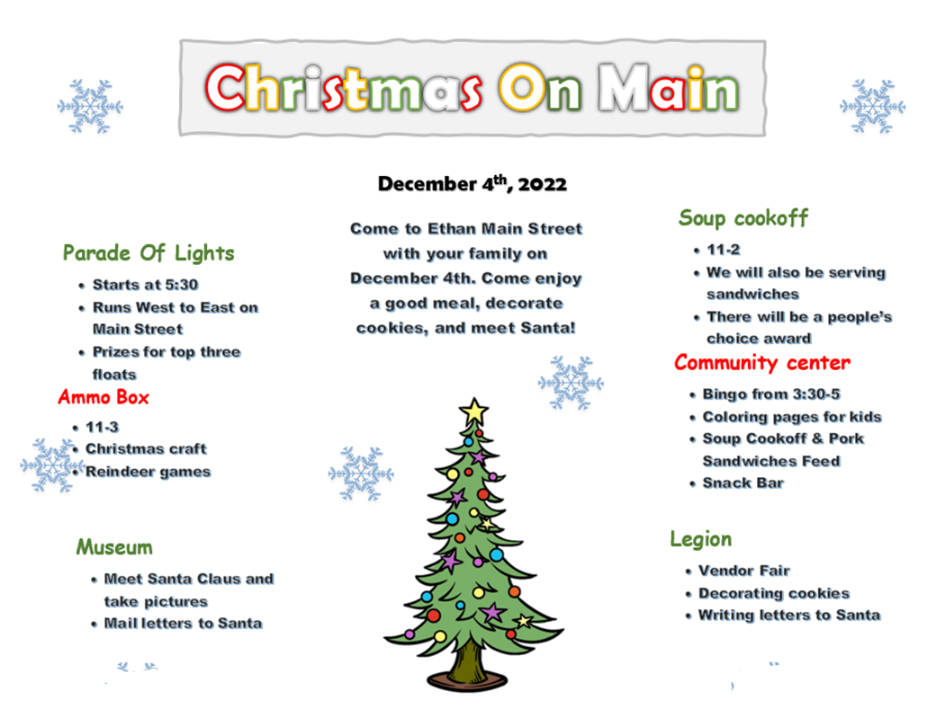 Parents and Students, we like all of you are excited for our upcoming basketball seasons! It is amazing to see the enthusiasm our kids have by wanting to get into the gym to prepare. However, please remember that if you have signed an agreement with the school to have a gym key, students cannot be in the gym unsupervised. An adult MUST BE PRESENT with them when they are in the gym.